5 Crucial Tips for Increasing Your Google Local Ranking
You've probably heard the old phrase from purchasing real estate, "LOCATION, LOCATION, LOCATION". Well, these days for Google, it's the same thing. It's all about "LOCATION, LOCATION, LOCATION". When you visit Google.com to do your search, Google is automatically going to assume that location is important to you and that results for things that are closer to you are more meaningful. Therefore, local pages now show up higher in your results list and other places on your results screen.
So just how important is your Google Local Ranking? INCREDIBLY important! As you can see from the image below, we did a search on the words "chinese food" and Google determined our location and returned results for chinese food in the local area and presented these to us in 3 different areas. Area 1 returns local results and presents them in the new Google Local Carousel with an image and reviews. Area 2 is our usual set of results from Google but as you can see Google is ranking the Chinese Food pages closest to our location as most important. And finally area 3 is local results on Google Maps.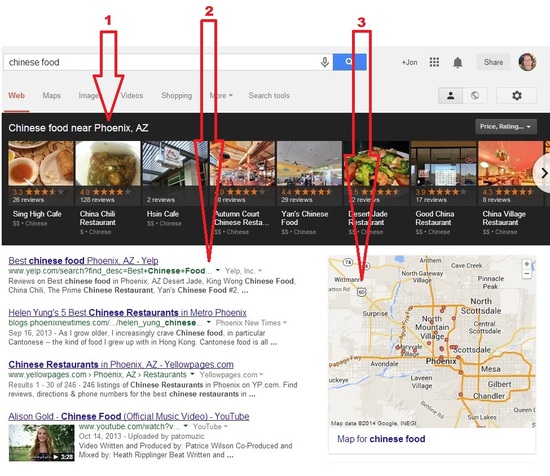 You can see just from this one example, increasing your Google Local ranking is everything now!
Gone are the days where giant companies with huge budgets can dominate the top of the search results! Think about this for a minute, this is a HUGE paradigm shift from big corporations to local business in search results and your company can take advantage of this!
It can be confusing to figure out where to focus your time and internet marketing budget in order to increase your Google Local ranking.
Lucky for you, We've done the research and boiled it down to the 5 crucial tips that you need!
5 Crucial Tips for Increasing Your Google Local Ranking
Number One - Create your Google+ Local Page and Google Places accounts.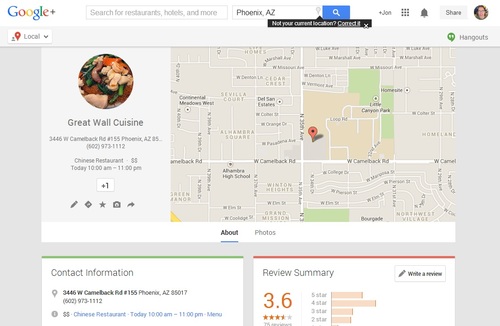 The most important thing you can do, right now, is to make sure you have a Google+ Local Page for your business, as well as a Google Places account. Google+ Local Page is Google's replacement for Google Places but right now both are still in existence, and it's important that you have created them both.
You can see our article on Google Places versus Google+ Local Page for a full run-down on what they are and how to create them. It is critical that you create them with exactly the same business information that matches exactly to how your business appears elsewhere on the internet, especially your own website if you have one. Make sure the business name, address and phone number are exactly the same and formatted exactly the same wherever they appear.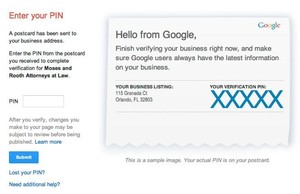 Number Two - Get your accounts verified!
Once you have a Google+ Local Page and Google Places account, get them verified! Being verified is a way for Google to trust that the person who created the accounts is truly the business owner. This immediately helps you rank higher in the local search results.
Being verified also give you a chance to respond to reviews from your customers and that leads us to our next crucial tip.

Number Three - Reviews, reviews, reviews!!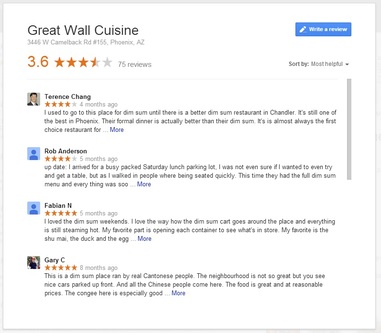 Once you have a verified Google Places and Google+ Local Page account, the next single most important thing for you to increase your Google Local ranking is to get a lot of reviews (hundreds if possible)! The more reviews you have, the more Google trusts that you are a thriving business, and the higher you will rank in local results.
You need to promote your Google+ Local Page actively to your customers and incentivize them to leave you a review! Offer them 20% off their next purchase with a review. This discount will pay itself back to you ten-fold when you start gaining more business by ranking high in the Google Local results!
It's important that you stay on top of the reviews and respond when appropriate. As the owner of the Google+ Local Page, you can respond to each customer review. Do it! Thank the customer for the positive review and if you get a review that is critical of your business, reach out directly to that customer and make it right! If you can turn their negative experience into a positive one, ask them to modify their review. If you can't get the review modified, take the time to respond for all to see, thank the customer for their feedback and respond with the steps you took to try to fix the situation for the customer. This allows others to see that you go out of your way to treat your customers right!
Number Four - Fully complete your Google+ Local Page.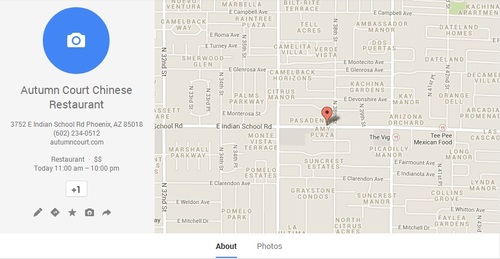 Google gives more weight to Google+ Local Pages that are "fully complete".
So what do we mean by "fully complete"? You need to fill in every field that Google+ Local Pages gives you to fill in when you create your page.
You need to add pictures and lots of them to your Google+ Local Page. You can see that "Autumn Court Chinese Restaurant" hasn't taken the time to add a picture of their business. Their page looks more boring than others with a picture, and Google likes the pages with pictures better, so adding them helps you increase your Google Local ranking!
You need to attach videos that you are storing on YouTube (which is also Google owned).
You need coupons offered from your Google+ Local Page for your customers to use!
Take advantage and use every attached service you can to Google+ Local Pages, and Google will reward you for it by increasing your Google Local ranking!!
Number Five - Get your company listed in the "Big 12" online directories.
LocalSEOServicesUSA.com recently published the list of "Big 12" directories for 2013. While this is bound to change slightly each year, this list is a good list of established directories that should include your company.
Make sure you visit each one of these sites and get your company listed! If your company is already listed (and they probably are if you've been around awhile), make sure you take ownership of the listing. Then be sure the data in the directory matches exactly to the data you used to create your Google Places and Google+ Local Page accounts. This is crucial so that Google gives you credit for being in these directories and increases your Google Local ranking!
A few other tips.
While not 'crucial', it also helps to promote the heck out of your Google+ Local Page! Just like your internet marketing tactics for your website, you should work to increase the page links to your Google+ Local Page. Getting more people to add your page to their circle on Google+ and +1 your page and posts can also help. Finally, be sure to add frequent posts to your Google+ local page. Continual updates to your page make it "fresh" which makes it more relevant to Google.
It may feel a little overwhelming thinking about taking this all on! This is understandable! If you are the owner of a small business, you are trying to run your business. While you want to take time to promote yourself online and increase your business by increasing your Google Local ranking, sometimes it's more than you can handle! Your internet marketing efforts should be done continuously each month to maintain a high ranking. If you need help just remember that we're here to help! Contact us at SEO Ann Arbor! We're here to help you achieve your dream of a successful, growing business and abundant life … Starting today!